Trenchless Romania – Conference & Exhibition
Why dig - when there are trenchless solutions?
The 1st Trenchless Romania is one of the region´s most significant conference and exhibition focusing on Trenchless Technologies. Trenchless Technologies are pioneering techniques which combine economic efficiency and environmental protection thus providing a modern approach for the installation, replacement or renewal of all underground utilities from, water, sewer, gas, and industrial pipelines to electrical conduit and fibre optics with minimum excavation and surface disruption.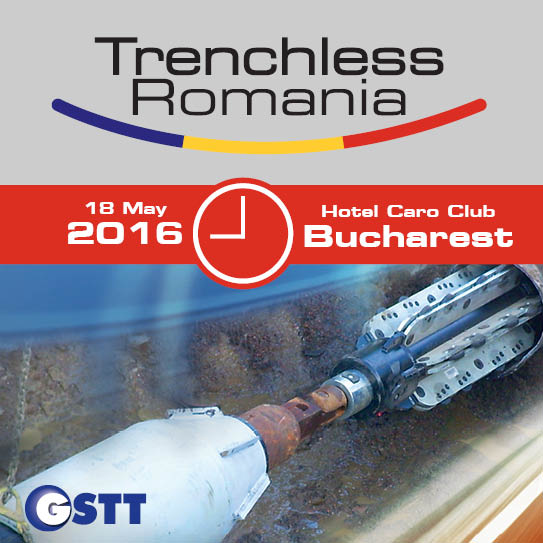 Trenchless Technologies are particularly favorable construction methods in urbanized areas with heavy vehicular and pedestrian traffic and numerous existing underground utilities. Trenchless Technologies are an optimal solution for crossing roadways and other transportation corridors as weel as rivers and waterways. Trenchless construction methods can also be used to install, rehabilitate or replace underground utilities located in environmentally sensitive areas and locations where surface access may be restricted due to the existence of structures or vegetation. Often, trenchless techniques are the only viable construction option. Trenchless techniques are also often the least costly option as well as the least disruptive.
The event will showcase machinery, products and services from international manufacturers and providers attracting top quality audiences from around the region whose aim is to expand their knowledge and experience the latest technologies for the installation and refurbishment of underground utilities.
Trenchless Romania – Program
Conference chair
Dr. Klaus Beyer (GSTT Germany)
Opening
Prof. Jens Hölterhoff, Chairman of GSTT, Germany
Confirmed presentations (current status: 02.10.2015):
Why Trenchless Technology – Overview, Advantages
Prof. Jens Hölterhoff, Chairman GSTT
Pipe rehabilitation with the pipe bursting technology
Sebastian Schwarzer, Regional Sales Manager TRACTO-TECHNIK GmbH & Co. KG
Microtunnelling and Direct Pipe technology
Michael Lubberger, Productmanager Pipeline Business Unit Utility Tunnelling, Herrenknecht AG
Use of HFI-longitudinally steel welded pipes
Coatings and innovations for trenchless applications
Horia Alexander Enciu, Salzgitter Mannesmann Line Pipe GmbH
Trenchless construction – not possible completely without digging
Madalin Sima, Managing Director Titan Technik AG
Why trenchless house connnections?
NN, Hauff-Technik GmbH & Co. KG
Guided Auger Boring - Special Applications
Dr.-Ing. Gregor Nieder, Bohrtec GmbH
Sewer rehabilitation mortar – product overview and projects
Mark André Haebler, Hermes Technologie GmbH
Safe and intelligent multilayer pipes for trenchless installations
Kai Hülso, Head of Business Development, egeplast international GmbH
Applied Ductile Pipe Technologies for trenchless applications within cities
Marc Winheim - Department Applications Engineering, Duktus Rohrsysteme Wetzlar GmbH
GRP-Liner and UV-curing – The optimum solution for demanding trenchless job sites
Christoph Lindner, Sales Manager, iMPREG International GmbH
For details about the event, confirmation of participation or sponsorship packages, please contact:
Trenchless Romania - Contact
Audienta Generala AG SRL – Masini si Utilaje pentru Constructii
Marketing Manager - Maria Nae
Maria.nae@masinisiutilaje.ro
+40724 550 830
Contact in Germany
TRACTO-TECHNIK GmbH & Co. KG
Person to contact: Thorsten Schulte
+49 (0) 2723 808-246
thorsten.schulte@tracto-technik.de