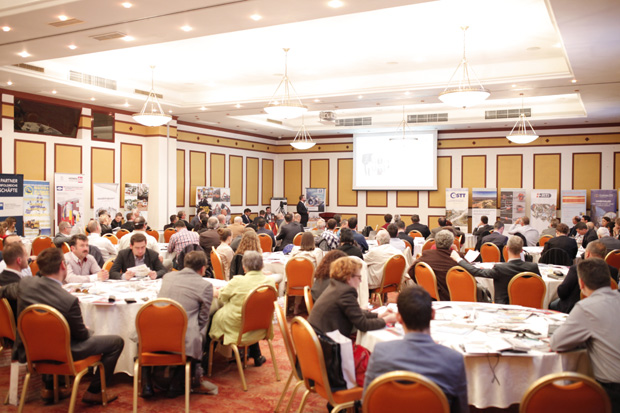 First edition Trenchless Romania Conference & Exhibition 2016 created a powerful impact for a future no-dig region
Trenchless Romania is the region most important event dedicated to trenchless technologies
, that aims to present all inovations in the latest technologies for installation and refurbishment of underground utilities. The event was supported by RoSTT (Romanian Society for Trenchless Technologies) and GSTT (German Society for Trenchless Technologies).
The event was attended by more than 200 participants including producers and distributors for trenchless technologies, construction machinery distributors (Germany, Austria, Holland, USA, Saudi Arabia, UK, Greece, Bulgaria, Turkey), network operators, contractors, water companies, gas and sewerage, main local associations as well as local and regional authorities. Representants of Austrian Embassy in Bucharest and Romanian-German Chamber of Commerce and Industry were also present at the event.
The main results of the first edition of Trenchless Romania:
Total number of participants:
203
Total partners:
23
Exhibitors indoor:
16
Equipments in outdoor area:
7
Presentations:
23
Among the special guests of this first edition was
Jens Hölterhoff
-Chairman GSTT,
Dan Ulian Szekely
-Vice President of ROSTT and
Graham Evans
, representative UKSTT.
More than 20 specialists and experts sustained their presentations during the three conference sessions. The event offered the possibility of exposure and presentation of the most revolutionary products and equipment currently in use in indoor and outdoor spaces.
The event was moderated by well-known presentors
Constantin Opris
(the Money Channel) and
Aneta Singeorzan
(Realitatea TV). All participants enjoyed at the end of the day an artistic program offered by Larisa Barbu traditional dance company, followed by traditional Romanian dinner.
During the event was released the magazine "
Trenchless Romania
", edited by Audienta Generala AG SRL, the first magazine exclusively dedicated to trenchless sector in Romania. The Trenchless Romania Magazine will be distributed for free to all main Romanian players in the trenchless field and it can be read also on-line on it's website:
http://www.trenchlessromania.ro/
See the event's film at link:
https://www.youtube.com/watch?v=2Is5tik_urg
About Trenchless:
Faster, more economical, more efficient, more environmentally friendly!
Trenchless Technologies are pioneering techniques which combine economic efficiency and environmental protection thus providing a modern approach for the installation, replacement or renewal of all underground utilities from, water, sewer, gas, and industrial pipelines to electrical conduit and fibre optics with minimum excavation and surface disruption.
Contact organizer:
Audienta Generala AG
Bld. Corneliu Coposu, No. 7,
Bl. 104, Et. 1, Ap. 33
030829 Bucharest-Romania
Maria Nae – Marketing Manager
Tel: +40724 550 830
maria.nae@masinisiutilaje.ro
http://www.trenchlessromania.ro/